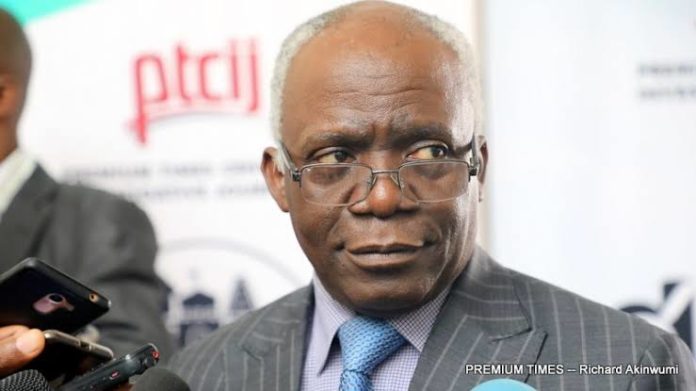 Pro-democracy group, National Democratic Front (NDF), believes Senior Advocate of Nigeria (SAN), Femi Falana's recent attacks on President Muhammadu Buhari is a product of "intoxication with early wine".
In a recent scathing onslaught, among others, the self-acclaimed human rights lawyer had insinuated that President Buhari is contemplating a third-term agenda in 2023.
However, in reaction, the NDF rubbished such notion, describing it as "unfounded, baseless and senseless".
In a press conference in Abuja on Saturday, Secretary-General, Dr Abdulakadir Bolaji, revealed that Mr Falana is nothing but a clout chaser, seeking prominence despite Buhari's timely rebuttal that he has no intention of tenure elongation.
According to the group, the latest outing by the ex-chairman of National Conscience Party has "betrayed him as one of the many veiled forces working in cohorts with foreign interests against Nigeria".
While reiterating that the president is a "Democrat" who respects the Constitution, the NDF advised Falana to emulate the hallowed path of late Gani Fawehinmi, the true "Senior Advocate of the Masses".
Read full statement below:
We read with utmost dismay, shock and disappointment news on various media platforms credited to Lagos-based human rights lawyer, Mr. Femi Falana, SAN, aligning himself with the unfounded, baseless and senseless propagation of the incongruous notion that President Muhammadu Buhari is secretly plotting a third term agenda in 2023.
It is stumping that a lawyer of Falana's status and exposure, who tags himself with the venerated epaulet of "human rights activist," under the silk should condescend to lend his voice in giving credence to the flyers of desperate attention seekers, internet-based gossips and un-informed media commentaries trumpeting President Buhari's tenure elongation.
Mr. Falana has decided to defame his character and lower his self-esteem, in spite of President Buhari's timely rebuttal that he has no intention of tenure elongation, when the campaign began to gain currency on social media platforms and promoted by debased characters.
A statement by the Presidential spokesman, Mr. Garba Shehu eloquently disclaimed that "President Buhari is a democrat. He respects the Constitution. Any activity aimed at altering the two-term limit will not succeed and shall never have his time nor support." This is articulate and lucid enough to everyone.
There should be honour in what an elder or senior citizen vomits in the public, even if he is intoxicated with early wine. We find it very reprehensible that Mr. Falana's should attempt to seek attention like common political jobbers by cunningly imposing a third term plot, on the character disposition and personality of President Buhari. It does not blend with the persona of Buhari.
Elsewhere in the world, elders of Falana's status are known for wisdom, sermons of unification of the people and their avid interest in teaching the younger generation the path of truth and dignity. It is unfortunate that the case of Falana seems to be slightly different and a negation of these cherished values with such illogical comments.
If today, Mr. Falana does not only feel content to dispute or contest the believability of the words from Mr. President on any issue, which is the leader's personal decision, it is laughable. But it is more ludicrous that Falana should wear the toga of a village sorcerer, conjurer or soothsayer to dispute the President without valid reasons.
More surprisingly, Falana anchored his postulations on the third term plot and campaigns on nothingness, citing archaic trends which occurred under autocratic leaders of Nigeria. Let us reiterate again that President Buhari is a decent, respectable, law-abiding and selfless leader who is conscious of his international rating in the comity of leaders and protects his integrity unlike, Falana's rapacious power monger and kinsman, former President Olusegun Obasanjo who plotted third term with dollars.
Any Nigerian who has keenly followed the leadership proclivity of President Buhari would easily concede that there are no immediate or remote antecedents linked to the President. Nothing even in his body language suggests he is of the breed of power monks and might seek to perpetuate himself in power or elongate his constitutional two terms of eight years.
Falana mouthed that the actions of the President and his men were pointers to a secret plot for tenure extension ambition. It sounds like hallucinations. But the so-called actions cited by Mr. Falana are laughable and ridicules his entire personality.
The human rights lawyer so disingenuously claimed President Buhari's administration is hounding into oblivion, opposition members and restricting free speech. He also claimed media crackdown and authoritarian moves in the areas of free trade and impunity in the conduct of state matters.
But President Buhari is a democratic leader who is subject to checkmating by the National Assembly. This is a President who allowed even federal government staff against his presidential ambition to connive with the opposition PDP elements unmolested or harassed before and after the general elections.
It is the same President who knew but never reacted to plots by the main opposition figure heads to scuttle his second-term swearing-in ceremony. So, how could any right thinking Nigerian claim Buhari is "driving opposition members underground?" Is Falana tacitly suggesting that President Buhari should slacken the pace of the war on corruption because most of those affected are opposition figures? We are sure Falana knows it is impossible.
President Buhari has no intention to curtail freedom of speech or muzzle the media. His government is only concerned with expression of this freedom responsibly in a manner which neither infringes on the rights of other Nigerians nor promote hate speech with its dire consequences of disaffection and disunity. This is even subject to legislation.
In Falana's desperation to nail President Buhari on his crucifix, he brought up the issue of Messers Omoyele Sowore and his co-accused, Olawale Bakare facing treason and other charges at a Federal High Court, Abuja before Justice Ijeoma Ojukwu . It is to stir public sentiments and sympathy into conferring credibility on his empty tales.
Falana who is a lead defence counsel in the case generously accused the Department of State Security Service (DSS) of refusal to release Sowore and his co-accused despite the court order to that effect. But Falana is aware that after Sowore perfected the bail conditions no one has presented himself to take them on bail, including Falana.
On Friday November 8, 2019, Spokesman for the DSS, Dr. Peter Afunanya explained in a public statement that the secret agency "has received the Court Order for the release of Omoyele Sowore. It is important that the public notes that since the receipt of the Order, no person has turned up at the DSS to take delivery of him."
Has anyone or Mr. Falana approached the DSS office and is denied the release of the detainee? If there is anybody privy to this fact is Mr. Falana and it becomes suspect, why he has preferred to tongue-lash Mr. President over his own failings.
If the presiding judge feels it is necessary to restrict the movement of Sowore and Bakare to Abuja and Osun respectively, how is President Buhari linked to the court decision? Or is Falana indirectly insinuating that the judiciary is no longer independent of executive interference? Did he argue the restriction of moment before the trial judge?
But more interestingly, Falana's latest outing has betrayed him as one of the many veiled forces working in cohorts with foreign interests against Nigeria. For Falana to qualify President Buhari's closure of land borders to save local goods and service as impunity and an attempt to stifle free trade casts him as an unpatriotic Nigerian.
Mr. Falana should know better than anyone else that the Presidency has not nullified it free trade agreement with neighbouring African countries. It only took measures deemed expedient to stem smuggling, which cheats the local producer in Nigeria and the deprive the country of vital national revenues. For a Lawyer of Falana's standing to openly and boldly side with smugglers against national interests suggests that he is a covert beneficiary of the activities of the smuggling cartel.
Candidly, we feel if Falana is idle, he should try his hands on something else. Flippancy becomes useless when what anyone utters cannot be discerned by anybody or is absolutely useless.
Falana should rise above such basal levels of guesswork and hallucinatory imaginations. He should crave to emulate the late Gani Fawehinmi, the true "Senior Advocate of the Masses" who fervently stood for the masses, but never betrayed his country or sided dubious characters against his nation.
Again, President Buhari has not; will not and has never nursed or contemplated any third term agenda. So, Falana should apply his sorcery elsewhere and desist from the disgraceful attempts to malign President Buhari, cause discord, disaffection, disunity and consequently overheat the polity. That's not an enviable mark of a senior citizen in the mould of someone like Mr. Falana.