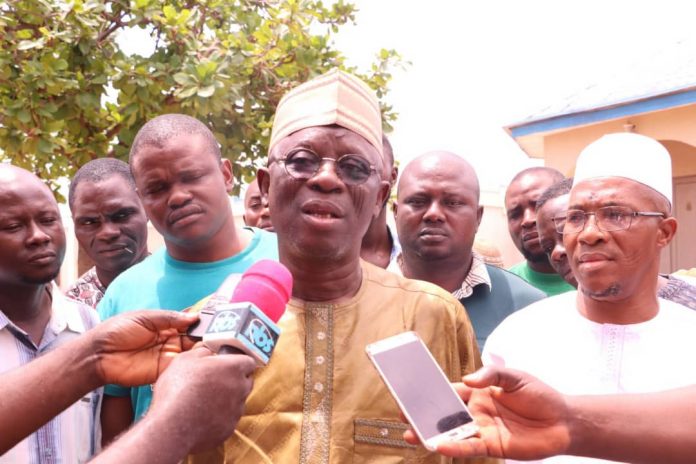 "… God will continue to bless you, the blessings of our fore fathers will continue to be with you and you will continue to excel, carry everyone along and continue the good work, Ohimege tells Speaker…"
The Independent National Electoral Commission INEC has announced the Speaker, Nasarawa State House of Assembly Rt.Hon. Ibrahim Balarabe Abdullahi as winner of Umaisha-Ugya State Constituency in the Saturday's polls.
The retuning officer, Abdullahi Hudu Ramalan of Federal University Lafia said the Incumbent member pulled the highest number of votes cast and is return elected.
"That the election was contested for and Adamu Muhammed of ADP got 37, Abdullahi Ibrahim Balarabe of APC got 3,706, Yahaya Sule of NNPP got 784, Zakari Hafsat Muhammed of NRP got 48, Ibrahim Abdullahi Sa'ad of PDP 2,850, Ibrahim Chambo of SDP 015,that Ibrahim Balarabe Abdullahi of APC having satisfied the requirement of the law is hereby declared winner and return elected "
The pronouncement no doubt set the camp of the speaker agog but to the winner, his victory indicates that democracy is at work, assuring his constituents of better representation at the hallow chamber of the state assembly.
As the euphoria mounts on, the speaker paid a royal homage to the traditional ruler of the area, the Ohmege Opanda Usman Abdullahi where the traditional ruler congratulated the speaker, saying his reelection justified his stewardship and urged him to continue with his good works emphasized that God, the land fore fathers will continue to bless him to prosperity urged him to carry every one along.
Ibrahim Balarabe Abdullahi who is elected for the third term to represent Umashia/Ugya State constituency called on his supporters to be magnanimous in celebration, promising to carry his constituents along irrespective of party affiliations and other sentiments.